Editing is practically the only thing that keeps this Wiki alive, and if you want to help look below.
NOTE
DO NOT ADD PAGES OF FORECASTS FOR ANY OTHER COUNTRIES BUT THE UNITED STATES OF AMERICA
Step 1:Getting the Image
First you have to get the forecast for the day OR night. Be sure to add on the word DAY or NIGHT to the image. Also the font for DAY and NIGHT must be Times New Roman.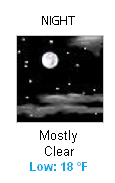 Step 2:Page Name
Now you have to create the page with the name of the city first, then the date. For example: Chicago Illinois: March 1, 2013 Please note that there shouldn't be a coma between the city and state name, because the name would be a bit more complicated.
Step 3:Adding Content
The pages are very easy to make. All you have to do is add the separate day and night images, and in the file parameters, the word left or right. Left is for day. Right is for night. Be sure to make the image not have the word thumbnail in the parameters.
Step 4:Adding Category's
Category's on pages are very easy to add, just add the city name and state, for example: Chicago Illinois Then your done! You have successfully created a page on the Wiki!
Ad blocker interference detected!
Wikia is a free-to-use site that makes money from advertising. We have a modified experience for viewers using ad blockers

Wikia is not accessible if you've made further modifications. Remove the custom ad blocker rule(s) and the page will load as expected.