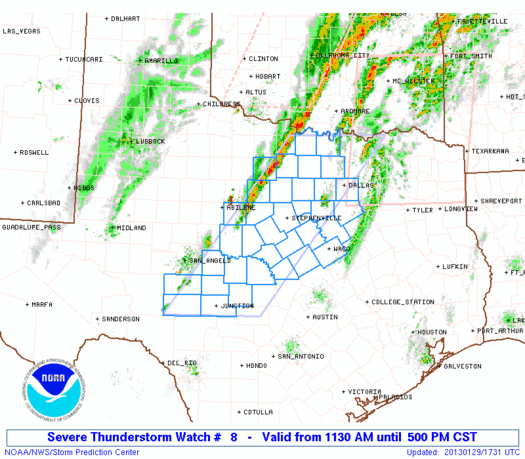 This severe thunderstorm watch was active from 11:30AM until 5:00PM CDT starting on January 29, 2013.
HAIL TO 2 INCHES IN DIAMETER
THUNDERSTORM WIND GUSTS TO 70MPH
DANGEROUS LIGHTNING
Texas Counties Effected
Edit
BOSQUE
BROWN
COLEMAN
COMANCHE
CONCHO
COOKE
CORYELL
DALLAS
DENTON
EASTLAND
ELLIS
ERATH
HAMILTON
HILL
HOOD
JACK
JOHNSON
KIMBLE
LAMPASAS
MCCULLOCH
MCLENNAN
MASON
MENARD
MILLS
MONTAGUE
PALO PINTO
PARKER
SAN SABA
SCHLEICHER
SOMERVELL
STEPHENS
SUTTON
TARRANT
WISE
YOUNG
Ad blocker interference detected!
Wikia is a free-to-use site that makes money from advertising. We have a modified experience for viewers using ad blockers

Wikia is not accessible if you've made further modifications. Remove the custom ad blocker rule(s) and the page will load as expected.