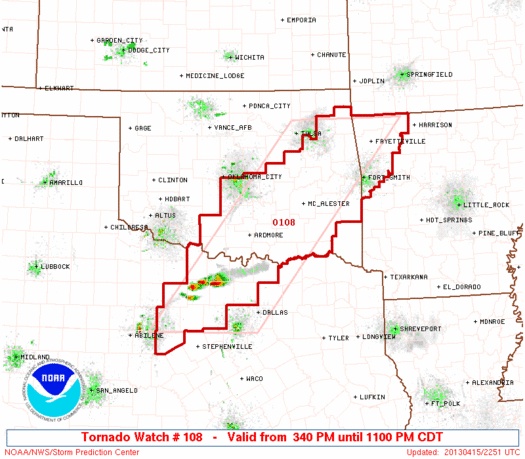 This tornado watch was active from 3:40PM until 11:00PM CDT starting on April 15, 2013.
TORNADOES
HAIL TO 2.5 INCHES IN DIAMETER
THUNDERSTORM WIND GUSTS TO 70 MPH
DANGEROUS LIGHTNING
Arkansas Counties Effected
Edit
BENTON
CARROLL
CRAWFORD
FRANKLIN
MADISON
SEBASTIAN
WASHINGTON
Oklahoma Counties Effected
Edit
ADAIR
ATOKA
BRYAN
CARTER
CHEROKEE
CHOCTAW
CLEVELAND
COAL
DELAWARE
GARVIN
HASKELL
HUGHES
JEFFERSON
JOHNSTON
LATIMER
LE FLORE
LOVE
MARSHALL
MAYES
MCCLAIN
MCINTOSH
MURRAY
MUSKOGEE
OKFUSKEE
OKMULGEE
PITTSBURG
PONTOTOC
POTTAWATOMIE
PUSHMATAHA
SEMINOLE
SEQUOYAH
STEPHENS
WAGONER
Texas Counties Effected
Edit
CLAY
COOKE
DENTON
EASTLAND
GRAYSON
JACK
MONTAGUE
PALO PINTO
PARKER
STEPHENS
WISE
YOUNG
Ad blocker interference detected!
Wikia is a free-to-use site that makes money from advertising. We have a modified experience for viewers using ad blockers

Wikia is not accessible if you've made further modifications. Remove the custom ad blocker rule(s) and the page will load as expected.