There was 2 tornado watches that happened on this date, a complete list is here: April 14, 2013: Tornado Watch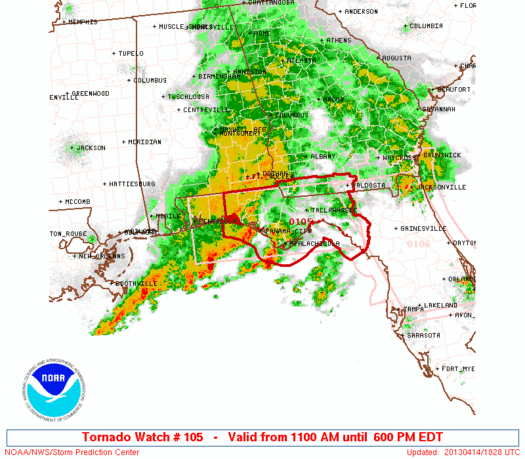 This tornado watch was active from 11:00AM until 6:00PM EDT starting on April 14, 2013.
TORNADOES
HAIL TO 1.5 INCHES IN DIAMETER
THUNDERSTORM WIND GUSTS TO 70 MPH
DANGEROUS LIGHTNING
Florida Counties Effected
Edit
BAY
CALHOUN
DIXIE
ESCAMBIA
FRANKLIN
GADSDEN
GULF
HOLMES
JACKSON
JEFFERSON
LAFAYETTE
LEON
LIBERTY
MADISON
OKALOOSA
SANTA ROSA
TAYLOR
WAKULLA
WALTON
WASHINGTON
Georgia Counties Effected
Edit
BROOKS
DECATUR
GRADY
LOWNDES
SEMINOLE
THOMAS
Ad blocker interference detected!
Wikia is a free-to-use site that makes money from advertising. We have a modified experience for viewers using ad blockers

Wikia is not accessible if you've made further modifications. Remove the custom ad blocker rule(s) and the page will load as expected.