There was 3 tornado watches that happened on this date, a complete list is here: April 12, 2013: Tornado Watch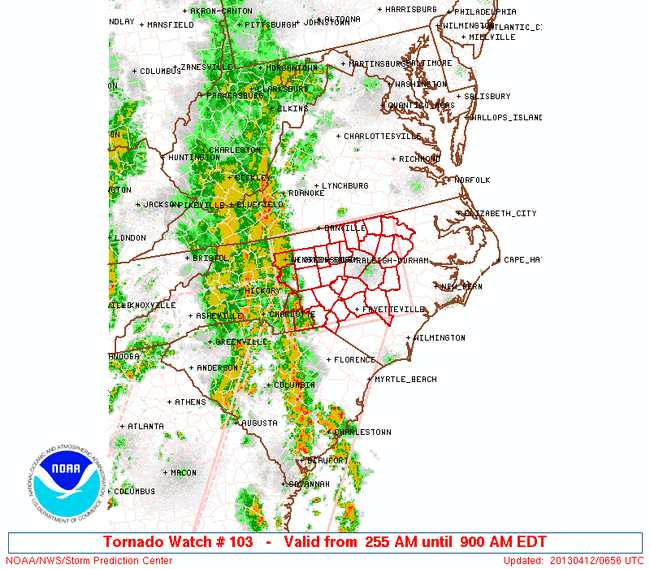 This tornado watch was active from 2:55AM until 9:00AM EDT starting on April 12, 2013.
TORNADOES
HAIL TO 0.5 INCHES IN DIAMETER
THUNDERSTORM WIND GUSTS TO 70 MPH
DANGEROUS LIGHTNING
North Carolina Counties Effected
Edit
ALAMANCE
ANSON
CHATHAM
CUMBERLAND
DAVIDSON
DURHAM
EDGECOMBE
FORSYTH
FRANKLIN
GRANVILLE
GUILFORD
HALIFAX
HARNETT
HOKE
JOHNSTON
LEE
MONTGOMERY
MOORE
NASH
ORANGE
PERSON
RANDOLPH
RICHMOND
SAMPSON
SCOTLAND
STANLY
VANCE
WAKE
WARREN
WAYNE
WILSON
Ad blocker interference detected!
Wikia is a free-to-use site that makes money from advertising. We have a modified experience for viewers using ad blockers

Wikia is not accessible if you've made further modifications. Remove the custom ad blocker rule(s) and the page will load as expected.