There was 3 tornado watches that happened on this date, a complete list is here: April 12, 2013: Tornado Watch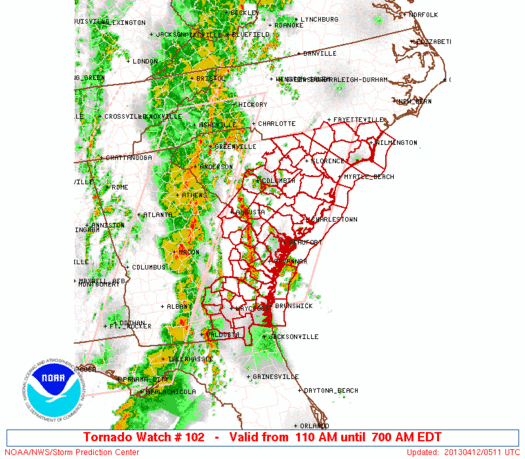 This tornado watch was active from 1:10AM until 7:00AM EDT starting on April 12, 2013.
TORNADOES
HAIL TO 1.5 INCHES IN DIAMETER
THUNDERSTORM WIND GUSTS TO 70 MPH
DANGEROUS LIGHTNING
Georgia Counties Effected
Edit
APPLING
BACON
BRANTLEY
BRYAN
BULLOCH
BURKE
CAMDEN
CANDLER
CHARLTON
CHATHAM
ECHOLS
EFFINGHAM
EVANS
GLYNN
JENKINS
LIBERTY
LONG
MCINTOSH
PIERCE
RICHMOND
SCREVEN
TATTNALL
WARE
WAYNE
North Carolina Counties Effected
Edit
BLADEN
BRUNSWICK
COLUMBUS
NEW HANOVER
PENDER
ROBESON
South Carolina Counties Effected
Edit
AIKEN
ALLENDALE
BAMBERG
BARNWELL
BEAUFORT
BERKELEY
CALHOUN
CHARLESTON
CHESTERFIELD
CLARENDON
COLLETON
DARLINGTON
DILLON
DORCHESTER
FLORENCE
GEORGETOWN
HAMPTON
HORRY
JASPER
KERSHAW
LEE
LEXINGTON
MARION
MARLBORO
ORANGEBURG
RICHLAND
SUMTER
WILLIAMSBURG
Ad blocker interference detected!
Wikia is a free-to-use site that makes money from advertising. We have a modified experience for viewers using ad blockers

Wikia is not accessible if you've made further modifications. Remove the custom ad blocker rule(s) and the page will load as expected.